This site is a collection of genealogical information related to the Magaziner family of Humenne. It focuses on the descendants of Henry Magaziner who immigrated to Philadelphia, Pennsylvania, USA in the 1880s with his wife Cecelia Rosenbluth and ten of his children, all pictured above. I have also researched collateral branches, descendants of Henry's grandfather, Löwi Magaziner. To date, I have documented 1300 members of this extended family. I have also found 21 other Magaziners in the Austro-Hungarian Empire that I cannot yet connect to this tree but are probably related. Most of these other Magaziners can be connected to Humenne, or at least to the Zemplen megye. They and their spouses and descendants add more than 150 people to this tree.
Humenne is the Slovak name of a town the Zemplen megye in what was then the Austro-Hungarian Empire. The town was known as Homonna in Hungarian. It is now part of Slovakia, at the eastern edge of the country. The Jewish genealogical website JewishGen has a page about Humenne.
According to Henry Jonas Magaziner, who heard the story from his father Louis Magaziner, the family acquired the surname "Magaziner" because a distant ancestor took on a government job as manager of the site of an exploded powder magazine. The family lived at that site until the late 1880s. In the mid-1880s, three of Henry and Cecelia's teenaged daughters (Fannie in 1884, Lena in 1885, and probably Jennie) set sail for America. They set up shop as dressmakers in Philadelphia and were successful enough to bring over the rest of the family in 1887. Many of the descendants of this clan still live in Philadelphia and its suburbs.
Henry had 12 children, ten of whom survived to adulthood and are pictured above. His oldest two children (Anthony, pictured above, and Jakob, who died in childhood) were sons of Henry's first wife, Resi or Rahel Friedman, who died when the sons were very young. Henry's second wife, Cecelia Rosenbluth (pictured above) raised his first two sons and was the mother of his remaining ten children. The ten children who survived to adulthood (Anthony and nine of Cecelia's children) all immigrated to Philadelphia, Pennsylvania, where this photograph was taken, and all had one or more children. Their descendants include 25 or 26 grandchildren, 56 great-grandchildren, 122 2nd-great grandchildren, 121 3rd-great-grandchildren and three 4th-great grandchildren identified so far.
Almost all of the Austro-Hungarian Magaziners I have found can be traced back to Henry's father Anchell or his uncle Samuel. Those who cannot be connected directly to the family can usually be traced back to Humenne or at least to the Zemplen megye, and are probably related to our Magaziners. Most of the Magaziners in Budapest can be connected directly to Samuel's sons Jozsef, Adolf and David. Most of the Magaziners in Vienna can be connected to Samuel's son Adolf. The farthest east I have found definite relatives is Beregszász (Berehove), now in the western Ukraine but formerly part of Hungary. Samuel's son Jozsef lived in Beregszász for a while and had several children there before settling in Budapest.
Most of the Magaziners in the United States, (including former presidential advisor Ira C. Magaziner) trace their origins to Poland or the Russian Empire. In 2011, I did some rather exhaustive cataloguing of all the Magaziners I could find, from Russia, Poland, Ukraine and England, and some other places, and found no evidence of any connection between them and my Austro-Hungarian Magaziners. The word "magaziner" is an occupational name in German, and is apparently a military title (it seems to refer to the chief supply clerk), so it's not really surprising that there could be multiple unrelated families with the same name. The surprising thing is how many of the Western European ones have proved to be related to each other.
Yes, Henry Magaziner's wife, Cecelia Rosenbluth, is related to the travel agency Rosenbluths (the travel agency was a family business until 2003). I have been in touch with a person researching the Rosenbluth family, and her family includes a "Tante Magaziner" (Auntie Magaziner), undoubtedly our Cecelia. We have discovered that Cecelia was not their father's sister, but may be an older cousin who was simply referred to as "Aunt" for convenience.
Out of respect for the privacy (and identity security!) of their descendants, I have provided little or no detail about living descendants. The Alphabetical List provides names and dates of birth for living persons, but it does not show how they are connected to the tree. The descendant tree and collateral tree show the connections but do not give names or dates for living persons. Because of the longevity of our Magaziners (at least two have lived past 100), I have assumed that anyone born after 1900 is still living unless I have solid proof of a date of death.
The End of an Era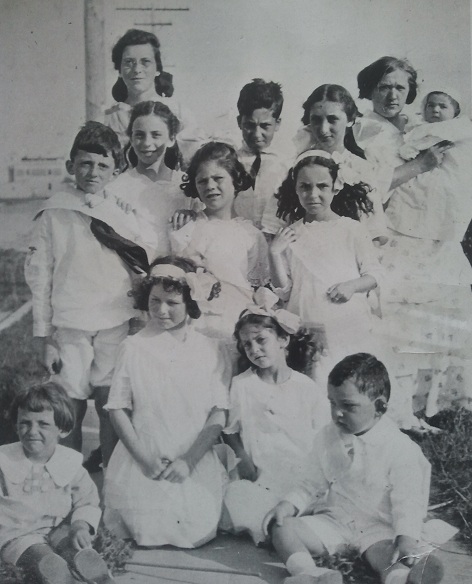 Family trip to the beach in the summer of 1916, with children of
Lena
,
Jeanette
,
Anna
,
Sadie
,
Nellie
and the oldest son of
Louis
.
Not present: children of
Anthony
,
Fannie
and
William
and the two younger children of
Louis
.
Hover over a face to see the name
Click a face for more information about the person.
The last of Henry's grandchildren passed at the end of 2011: William Ward Magaziner passed just before Thanksgiving, approaching his 88th birthday, and Henry Jonas Magaziner passed on Christmas day, at the age of 100. You can see more about these men on their pages, but I'd like to say a few words about their contributions to this family tree and this website, which were significant.
In 2003, before this site began, Henry provided me with some pages from his memoire that talked about his father Louis and the Magaziner family backstory. Although some of the details proved to be factually inaccurate, they inspired the deeper digging that has expanded this tree as far as it has become.
In 2005, shortly after this site began, Bill was the source of the family photo above, that really brought this site alive. Before the picture, this site was just dry text, and I rarely received any email. The picture attracted interest to the site, and inspired other members of the family to email me and fill in their branches of the tree.
The generation that has passed, Henry's grandchildren, had 25 or 26 members. Most of Henry's grandchildren lived very long and active lives: 18 lived past 80, 13 lived past 90 and two reached the century mark. Three of them were described at one time or another as the oldest member of their profession in Philadelphia: Arthur was described in his obituary as "one of Philadelphia's oldest active lawyers"; Alex's obituary described him as "the oldest practicing accountant in Pennsylvania for many years"; Henry was described in an Athenaeum newsletter as "the oldest living architect in Philadelphia" at a time when he was still writing books.
Twenty-three of Henry's granchildren had children of their own, giving Henry 56 great-grandchildren.
Updates
New 11/27/2016:
A branch I thought was wiped out in the Holocaust survives! Late last year, I learned that Regina Goldstein perished in the Holocaust, along with her adult children Helena and Dezso, Helena's husband and what I thought was Helena's son. But I was recently contacted by Helena's grandson, who told me that the "son" was actually a brother-in-law, and Helena had two adult children who survived the Holocaust! One of Helena's children is still living, and they both have children and grandchildren of their own.
I've started to add highlighting to make it easier to see what has changed. Some of the more significant things I've found this time:
New 6/12/2016:
I have finally connected Alfred Magaziner to this tree! I discovered the Munich-born journalist five years ago, and always suspected he was a son of Arthur Magaziner, but had no proof. I finally found a biography of Alfred that identifies his parents as Arthur Magaziner and Melanie Stein!
I found quite a bit of information about Louise Erdelyi, including information about a husband and a picture of him. I also obtained World War I service photographs of Andrew Jacoby.
And I did a lot of research on Facebook, identifying more than a hundred previously unknown members of the family and clarifying the names of some known members. Of course, these people are all living, so they only show up on the Alphabetical List, but maybe their presence there will draw them to this site and they will be able to provide additional details about their ancestors!
New 2/14/2016:
I have found nine photographs of members of the family who previously had no photographs on this site! See Louis Aaron Kustin, Simon Henry Rosenthal, Reba Henken, Irwin Jack Pincus, Leah, Sidney and Herman Kline, Harry Paul Goldman and Muriel Erens.
I found records of another daughter of Sandor Weinberger: Livia, who married but sadly died shortly after the marriage. I also found records of a short-lived first marriage for Florence Lang, a husband of Szerena Schon, and additional information about the second husband of Ruth Ermann.
I learned that Bela Nagy was a man. He was listed as female on JewishGen's translation of his birth record, but he was the groom in a 1934 marriage record.
I've added several new branches to the larger Other Magaziner branches: Sarolta Schon, children of Jakob Meisels and Sarolta Weinberger, as well as a name change for Henrik Schon and a marriage for Szerena Schon. I also found another new "other" Magaziner, Emil, a traveler from Panama to Switzerland in the late 1950s.
And sadly, I have found evidence of the Holocaust deaths of many members of the family: the husband of Maria Heller, Regina Goldstein and most of her descendants,
New 7/5/2015:
The South American connection expands! Three years ago, I learned that Erna Magaziner fled to Bolivia during the Holocaust. Eighteen months ago, I was contacted by a descendant of Paula Magaziner, who told me that Paula and her family moved to Buenos Aires in 1920 and their descendants still live there. Last month, I was contacted by a descendant of Julia Gaal who told me that Julia and her adult daughter moved to Buenos Aires in 1962 and her descendants still live there. Bienvenido a la familia!
A new "other" Magaziner, Elsie, appeared in newly-available New York City records. She is said to be from Austria and born in 1878. I haven't determined how or if she fits into the tree.
Lots of new information about marriages: I found a marriage for Jozsef (Joska) Frisch, the first record I have found of him as an adult. I have confirmed that Johana Meisels from one of our unconfirmed Magaziner branches is the one who married Salomon (Samu) Weinberger, though it is still not clear if this Samu is the same person as Rezi's surviving husband Samuel (Salamon) Weinberger. I also have new information about the first wives of Zoltan Pal Magaziner and Sandor Nagy and the first husband of Wanda Weinberger. And congratulations on the marriage of Alana Marie Magaziner, who was only 10 years old when I first started researching this family tree! Her grandfather (through her father) provided the 1898 family photograph above that really brought this site to life.
And a few other details: I found an interesting newspaper story about a custody dispute over Erna Mahler and a name change for Aranka Weinberger.
New 3/29/2015:
It's been a productive few months! I learned some interesting details about Lilly, a granddaughter of David Magaziner. I even found a sketch of her drawn by notable Austrian artist Oskar Kokoschka! I also found some additional information about Moritz Weinberger, a short-lived first marriage for Maria Weinberger, the Holocaust-related end to Karl Maroti's marriage, an additional grandchild of Jozsef Magaziner, Gizella and her husband, and some interesting details about Zoltan Pal Magaziner.
I heard from someone on Hannah's Jacoby branch, who cleared up a number of gaps in that branch, bringing the number of confirmed members of this tree close to 1300.
I have found some more information about a few branches that have not yet been definitively connected to this tree, though sadly some of it ended in the Holocaust. Lujza Magaziner, probably a daughter of Jozsef though I have not yet found a record connecting them, perished at Auschwitz. Aron Meisels, whose Magaziner grandmother was born in Humenne but I have not found her connection, also died in the Holocaust, as did two of his children, but one survived.
I have decided to go ahead with the assumption that Budapest pharmacist Lajos Balkanyi is the same person as the son of Emil Magaziner, who changed his name to Lajos Balkanyi. They have the same name, and the pharmacist first appears in Budapest a few years after the name change, on the same block as some other Magaziners (his 2nd cousins).