Anthony Magaziner (Anschel, Antal, Tony)
Anthony Magaziner (born Anschel; known as Tony) is the oldest of Henry Magaziner's children. He was born in Humenne on April 17, 1862. He was probably named for Henry's father, Anschell. Anthony was the son of Henry's first wife, Resi Friedman, the only one to survive to adulthood, rather than the son of Cecelia Rosenbluth. In Hungary, Anthony was known as Antal.
Anthony probably arrived in the U.S. on the Hermann from Bremen to New York in May 1886.1 He was the first of the Magaziners to become an American citizen, naturalized on June 2, 1896. Anthony's naturalization was witnessed by Alfred Rosenthal, an American-born man who was married to Anthony's sister Fannie. Anthony then served as the witness on the naturalization of his father Henry and his brother Hugo. (Younger brothers Louis and William gained citizenship through Henry's naturalization.) Anthony worked at various times in the dry goods business and as a letter carrier (i.e., a mailman).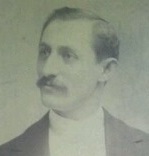 Anthony

Ethel Goodman
On June 18, 1893, Anthony married Ethel Goodman, another Hungarian-Jewish immigrant. Ethel was born on December 27, 1870. Before the marriage, Ethel was a dressmaker, like Anthony's sisters Fannie, Lena and Jeanette. Ethel invented a novel garment fastener that she patented in 1903 (Patent #759625). Anthony and Ethel had four children.
Ethel died of cerebral apoplexy in Philadelphia on June 18, 1924 at the age of 54. She was buried at Mt. Sinai Cemetery in Philadelphia. Anthony outlived her by more than 20 years, but he never remarried. He died of stomach cancer on December 17, 1947 at the age of 85, after several months' illness. His attending physician was his brother William. Anthony was buried at Mt. Sinai with Ethel, their unmarried daughter Cecilia, and an unnamed child of their daughter Stella. Many of the Magaziner clan are buried at Mt. Sinai and the adjacent Adath Jeshurun and Chevra Bikur Cholim cemeteries.
Children of Anthony Magaziner and Edith Goodman are:
David Arthur Magaziner
David Arthur Magaziner was born in Philadelphia on April 11, 1894. He was known by his middle name, Arthur, or as D. Arthur. Arthur attended Central High School in Philadelphia, and earned a law degree from the University of Pennsylvania in 1914, though he was not old enough to practice law for another year. He worked as a lawyer throughout his long life, and was described in his obituary as "one of Philadelphia's oldest active lawyers" who gave "no thought to retirement." Arthur was President of Congregation Rodeph Shalom for five years, and was a member of its Board of Trustees.
Arthur married Roberta Lee Hirshberg on October 23, 1919 in Philadelphia. Roberta Lee was born on January 19, 1895 in Petersburg, Virginia, the daughter of Jacob A. Hirshberg and Delia Strause. Roberta was the first cousin of Abram Dettelbach, Jr., who married David's sister Regina a few years later (Abram's mother Mayme was the sister of Roberta's mother Delia). Arthur and Roberta had three children together.
Roberta Lee died of Landry's Paralysis on December 19, 1954 and was buried at Mt. Sinai Cemetery, on the reverse side of the stone where Arthur's parents are buried. Arthur established a music memorial at Congregation Rodeph Shalom in her memory, which holds a significant collection of Jewish sheet music and provides for concerts at the synagogue.
In August 1986, at the age of 92, Arthur remarried to widow Evelyn Green Sklaroff. Evelyn was born in New York City on April 24, 1904, and was married to Harris Sklaroff for 30 years before his death.
Arthur died on March 30, 1988, just before his 94th birthday. He was buried at Mt. Sinai Cemetery with Roberta Lee, on the reverse side of a tombstone shared with his parents.
Children of David Arthur Magaziner and Roberta Lee Hirshberg are:
Marjorie Lee Magaziner (b: 13 JUL 1920; d: 8 MAR 2003)
LIVING
David Arthur Magaziner, Jr. (b: 12 MAR 1925; d: 1 AUG 2000)
Regina Rose Magaziner Dettelbach
Regina Magaziner was born on March 12, 1899 in Philadelphia. On December 20, 1925, she married Abram Dettelbach, Jr. Abram was born in Richmond, Virginia on November 30, 1899, the son of Abram Dettelbach and Mayme Strause. Abram was the first cousin of Roberta Lee Hirshberg, who married Regina's brother Arthur a few years earlier (Abram's mother Mayme was the sister of Roberta's mother Delia). Abram worked as a clothing salesman. They had two children.
Abram suffered a heart attack and died in Cheltenham, Pennsylvania on October 24, 1952. He was buried Mt. Sinai Cemetery in Philadelphia, not far from where Regina's parents and siblings were buried. Regina never remarried. She worked as a bookkeeper, and was active in the sisterhood of Rodeph Shalom, serving as its president and once named its Woman of the Year. She lived in Jenkintown in her later years. Regina died on August 1, 1985, at the age of 86. Regina was buried with Abram at Mt. Sinai.
Children of Regina Rose Magaziner and Abram Dettelbach, Jr. are:
Carol Ethel Dettelbach (b: 3 JUN 1928; d: 2 OCT 2016)
LIVING
Stella Magaziner Wurtele Amsterdam
Stella Magaziner was born in Philadelphia on July 7, 1904 in Pennsylvania. She played piano and studied at the Philadelphia Musical Academy. Stella married Lester H. Wurtele on January 27, 1929. Lester was born on July 29, 1907 in Philadelphia. He worked in motion picture administration. They had two children, but the first died in infancy, unnamed, and is buried at Mt. Sinai Cemetery with Anthony, Ethel and Cecilia.
Lester died on December 6, 1961 and was buried at Mt. Sinai Cemetery. Stella later remarried to Lewis L. Amsterdam, a mapmaker who founded Franklin Maps. Lewis was born in Pennsylvania on March 22, 1899. He died on December 3, 1991 and was buried at Roosevelt Memorial Park in Trevose, Pennsylvania.
Stella died on November 23, 1996, at the age of 92, and was buried with Lester at Mt. Sinai.
Children of Stella Magaziner and Lester H. Wurtele are:
LIVING
Cecilia Magaziner
Cecilia Magaziner was born in Philadelphia on November 27, 1906. She worked as a secretary for the School District of Philadelphia. Cecilia was a founder and active member of the Pennsylvania Association of School Secreataries (now called the Pennsylvania Association of Educational Office Professionals or PAEOP), and served as their president in 1949-1950. She lived in Philadelphia throughout her life and never married.
Cecilia died on January 12, 2000 at the age of 93. She was buried at Mt. Sinai Cemetery with her parents.